Beautiful, Functional, and Affordable Bathroom Renovations in Vaughan
Complete Bathroom Renovation in Vaughan. Time to upgrade your bathroom, call us today!
Want to create more space and functionality? Have bathroom issues that need to be addressed? You have come to the right place!
For years, A&R Renovations Inc. has helped homeowners across the Greater Toronto Area renovate their bathrooms, give them the space they have always wanted, while improving style, functionality and home value. This is why Bathroom Renovations are so popular – they provide you with the ROI you want and help you get the most out of your investment in a home renovation project. What do you want to do with your bathroom?
A Bathroom Renovation Should Always Be Left to The Pros
The key to any successful renovation project, especially when working on a room like your bathroom, is to hire the right contractors to do the job. The contractor you hire will have a HUGE impact on the quality of work completed and the ability for you to get exactly what you want out of the project. While there are many Bathrooms Renovation Contractor to choose from in Vaughan, they are all not created equally. This is why it's important to choose your renovator carefully. Ask yourself:
Does the company have experience with the type of Bathroom Renovation you want to complete?
Are Bathroom Renovations their area of specialization?
Does the company have examples and testimonials from previous home renovation jobs?
Does the contractors work fit within your project budget?
What does the reviews have to say about the Bathroom Renovation contractor in Vaughan?
Considering these questions will help you choose the best Bathroom Renovation contractor for the job in Vaughan – one you can be confident will do the job right, and do it well.
While you may be tempted to take a DIY approach to cut costs, it is not advisable for Bathroom Renovations Vaughan. Never mess with your plumbing if you are not a licensed plumber. You could do more harm than good and end up costing yourself more money than you budgeted for. This is why hiring a professional company for Bathroom Renovations in Vaughan is your best option to create the bathroom of your dreams. We can help you do repairs or make changes to your master bathroom, powder room, and guest bathrooms. Whether you want to replace the toilet, vanity, shower, or gut the entire bathroom and redesign it, we can help – just give us a call to get things started.
What are The Benefits Of a Vaughan Bathroom Renovation?
There is no shortage of benefits of embarking on a bathroom renovation. It is far and away one of the most popular and beneficial renovations you can perform. This is why homeowners often choose this route when considering their home renovation options. Here are some of the many benefits to choosing to do a Bathroom Renovation in Vaughan:
Improve relaxation and enjoyment at home
Improve the overall appearance of your bathroom and your home
Increase the amount of space for storage and functionality in your bathroom
Increase the overall value of your home
Improve the cleanliness of your bathroom
Bathrooms are one of the most attractive features that prospective buyers are looking for when exploring home buying options
Improve the use of technology in your bathroom
Make your bathroom more energy efficient and help save on your energy bill
Customize your bathroom to meet your personal style and functionality needs
These are only a few of the many reasons why Bathroom Renovations Vaughan are great options from an investment and functionality perspective.
Rent, Lease or Selling? Bathrooms are Important Selling Points! Easy Bathroom Renovations In Vaughan
Whether you own or manage rental properties, or are planning on selling your home, updating the bathrooms in the home, condo, or apartment will make it easier for you to rent or sell your property. Bathrooms, along with kitchens, are two very important selling points of homes and we can make sure your bathrooms are appealing to anyone interested in moving into your property. From this perspective, a Bathroom Renovations Vaughan provides great ROI and will help you achieve your real estate goals much quicker.
Our Approach to Customer Service for Vaughan Bathroom Renovation Projects
Customer service is always something you need to factor into your decision to choose a company for Bathroom Renovations in Vaughan. A company that pays attention to your needs and listens to your input will have a big impact on being able to deliver the bathroom you want for your home.
When you choose to work with A&R Renovations Inc., you can trust that you will get the following:
Building with commitment: We are fully committed to each and every renovation job we take on. This means using the best techniques and materials to create your bathroom design.
Creative thinking: We know you want something unique and something that reflects your needs and personality. We are not afraid to think outside the box, try new things, and come up with create designs for the space we have to work with in your bathroom.
Attention to detail: We sweat the small things because we know they are what make the biggest difference in your bathroom design. Our attention to detail is what will create a home that you will value for generations to come.
It is this approach to customer service that will ensure you get the final product you envisioned when you started the renovation planning process. We are happy to help you achieve your Bathroom Renovation Vaughan goals and objectives. Just give us a call to get your renovation started.
Bathroom Renovation Costs In Vaughan – What To Consider
Cost is always a top consideration when planning a bathroom construction project. When thinking about your bathroom design and renovation plans, it's important to factor in the costs for:
Demo
Bin rentals
Vanity, shower, bathtub, sinks, toilet
Flooring and paint
Window treatments
Labour and materials
These are all things that will need to be determined to figure out your bathroom renovations costs for the project.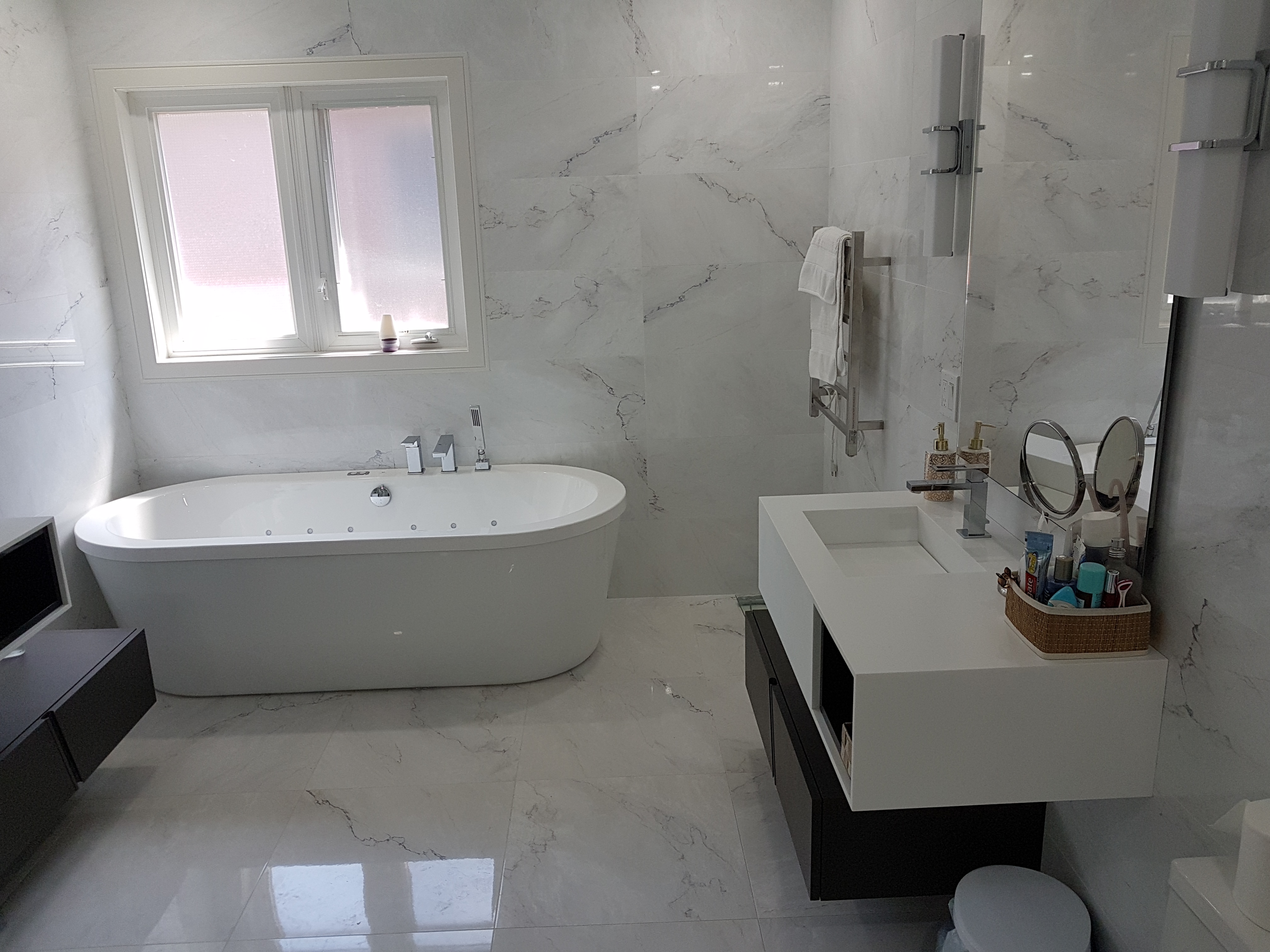 Why Call Us When Planning a Bathroom Renovation in Vaughan
We want your business and will do what it takes to earn it. We are always looking for new bathroom renovation projects to work on. One of the reasons why our customers enjoy working with us is because we always deliver on our promises; we stay on time, and on budget. We know how important these and other factors are to a successful Bathroom Renovation Project.
Choose A&R Renovations for Bathrooms in Vaughan
We want you to be our next satisfied customer. Our customers also choose us because:
We have over 25 years of Home Renovation experience
We specialize in Bathroom, Basement and Kitchen Renovations
We serve our clients with integrity, reliability, skill and professionalism
We complete one project at a time. This means that you are our first priority.
We are members of the National Kitchen and Bath Association and a BILD member
We offer written contracts and 1 limited warranty
We are fully insured and bonded
We are winners of Best of HomeStars 2011 and best of Trusted Pros 2012-2014
We proudly serve customers in Woodbridge, Markham,Vaughan,Brampton,Mississauga, Richmond Hill, North York, and other locations across the GTA.
100% customer satisfaction guaranteed
Want to learn more about our Vaughan Bathroom Contractors or how we can help you complete your bathroom renovation plans? Contact us anytime to explore your Bathroom Renovation options.
Get a Free Vaughan Bathroom Renovation Quote Today!
Your first step toward building your brand new bathroom is to get a hassle free Vaughan Bathroom Renovation quote. The quoting process allows us to get to know more about your project needs, what you want to accomplish, your timeline, and more. It also allows us to provide you with an accurate estimate.
We are looking forward to helping you explore your options and create a plan that will give you the bathroom you have always wanted to have at home. Give us a call anytime. We are excited to work with you on your Bathroom Renovation in Vaughan.
Here's what customers are saying about A&R Renovations
Alex did a fantastic job, renovating our bathroom and kitchen. He was hands on the while time and was there everyday to do the work. He is hard working and very meticulous.
Alex finished in a timely fashion and was reasonably priced for the work being done.
I would recommend Alex and A&R renovations to anyone needing a home renovation. He is very professional.
I am very happy with the work Alex did on our house.
Jenifer - Vaughan Bathroom and Kitchen Renovation
Get Inspiration From Our Bathroom Renovation Portfolio
Explore your bathroom renovation options by visiting our website at www.aandrrenovations.com or by calling 416-677-9316
A&R Renovations Inc
Bathroom Renovation Vaughan
Vaughan, Ontario
Phone: 416-677-9316